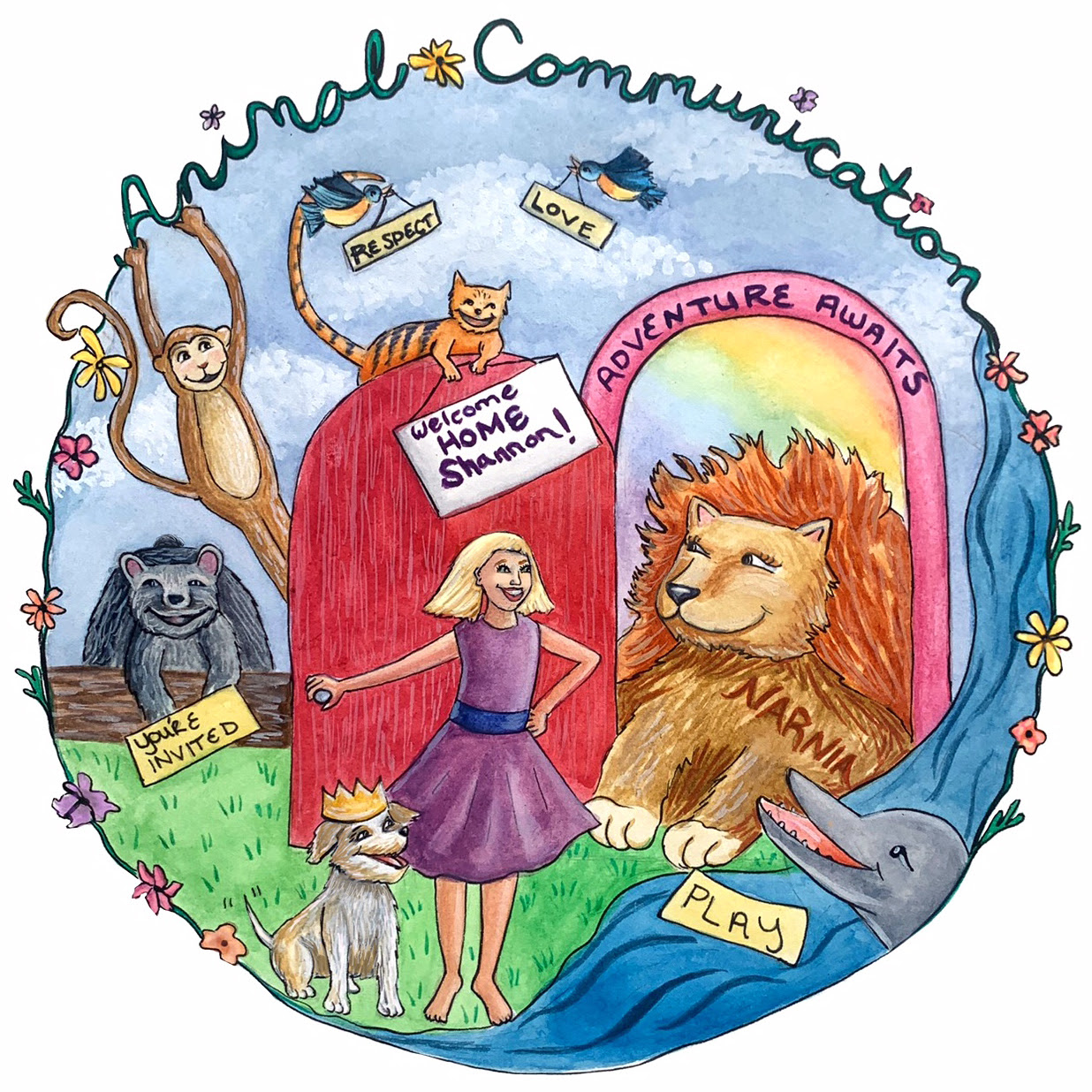 "Healing Happens"
Bringing you hope, healing, and humor from their hearts to yours;
Whether two or four-footed, open hearts, open doors…
---
Welcome to the Spring family pack of animals, people, and Spirits! Animal Communication, Mediumship, Education & Events brought to you with compassion, truth, magic & humor by Shannon Spring, PhD-og, M.Ed, an animal in human form.
---
A Message from Shannon in Puppypants Town
Welcome to our first newsletter for Pet Parents & Animal Lovers! Every month you'll get the latest meow on what's happening here in Puppypants Town to help you and your pets live your happiest and healthiest lives together.
---
Woofin' Wellness: Health Tips for Pets & People
We are reading and recommending "FOREVER DOG" by veterinarian Dr.Karen Becker and co author Rodney Habib. This book covers EVERYTHING you've always wanted to know about vaccines, food, natural remedies, and ways to help your dogs live healthy, long and strong. In future newsletters, we will highlight resources for other species. This book will help you be well informed and empowered. To quote Gloria Steinem, "The truth will first piss you off, then it'll set you free." We encourage you to move from guilt to better choices in caring for your pets more holistically. ❤️
---
Laughter Lives! Humor Across Species and Dimensions
The humor of animals is brilliant beyond words. My upcoming book will include one liners and shockingly funny comments from animals of all species. One of the reasons animals communicate so freely though me is that they see I live my life out loud, transparently with no secrets.I'm also a Humorist and Founder of JustHumorMe™️ where I lead humor and creativity playshops and retreats. Animals know I can take a joke and they know I'll deliver their wisdom and wit in exactly the silly or sarcastic tone in which they want me to. I won't step on their punchline and I don't mind playful humor at my expense.
Just yesterday while at a friend's house, loving on his dog, his cat was being shy and not terribly impressed with my presence. Finally, when I mentioned wanting to get my TV show launched, something I've been procrastinating on, Tinkerbell a shiny black beauty graced me with her feline magic. She walked right in front of me and said, "Stop talking about it, Shannon and just do it!"  Hahaha! She is absolutely right. A better life and  business coach, I couldn't ask for. A straight talking cat with some common sense tough love set my productivity fur flying! What do you need to stop talking about and just do already?Tinkerbell has had enough!
---
Educational & Entertaining Events:
Join the Pawty!Featured Event: MAYOR PUPPYPANTS LIVE
JOIN Shannon and Mayor Puppypants as they answer your pet questions on April 27th at 12pm EST.
Contact us to customize an event for your group of adults or kids including: Woofshops, Party Animal Events, Humane Education & Animal Communication Camps & Furry Fundraisers.
Follow Mayor Puppypants on social media for scheduled public events
---
---
Bear Hugs from YOU! Client Testimonials
"Thank you so much, you really changed Missy (cat) and my grandmother's world. They're both so much happier now being able to understand each other. You are amazing!" – S. Bradley
---
Lessons from my pack. Kermit the Dog here…
Kermit is a very sensitive soul and will quickly pick up any stress or sickness I feel. Luckily, I'm a healthy mutt myself overall; but I don't even like to sneeze in front of Kermit or he will soon sneeze after me, trying to relieve me of whatever's up my nose so to speak. Did you know animals of all species can take on our stresses and actual physical illnesses to try to transmute them for us?
Kermit reminds you to speak of wellness not illness around your pets. Project health and vitality onto yourself, and loved ones, both two and four footed and watch them recover faster and suffer less. I once had a painful UTI and Kermit then got a UTI, something at the time I didn't even know dogs could get.
In one pet session I did with a dog, the mom didn't know what was making her dog sick. When I asked the dog she replied, "I've got what mom just had… ovarian cysts." Sure enough, when I asked mom if she'd suffered from this, she said yes, she had just had very painful ovarian cysts but now is fine. When I told mom what her dog relayed to me, she gasped, "Oh my gosh, do you think she prevented me from getting sicker?" Of course, she already knew the answer. ❤️
Our pets of all species love us so much. They will do anything they can to ease our suffering and we owe it to them to show gratitude and do all we can to prevent and ease their pain too. Kermit often jumps into pet sessions to be my medical assistant, Dr. Kermit often has an excellent answer as to what's ailing your pet and what can help!
Thank you for barking your time with us. We hope to chirp with you soon.
Book your session and events at ShannonSpring.com, call 727-483-0400 (No Texts Please) or email petmessages@shannonspring.com.
---

This is Mayor Puppypants, a magical fairy and rescue superhero, who helped me unleash my gifts to the world. His comedic timing and intuitive abilities are woofing out of this world! He also likes to sing super loudly to demand what he wants. I'm so barking proud of him.